maj 2012/02/09
Voici mon dernier bracelet en pâte de bronze (BronzClay tm).
English version by Margaret Schindel, thank you so much Margaret!
I encourage you to visit her great squidoo sites :
http://www.squidoo.com/preciousmetalclay
http://www.squidoo.com/metal-clay-brands
http://www.squidoo.com/bronzclay-tools
http://www.squidoo.com/bronzclay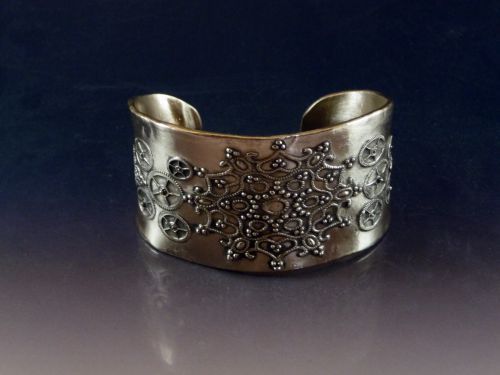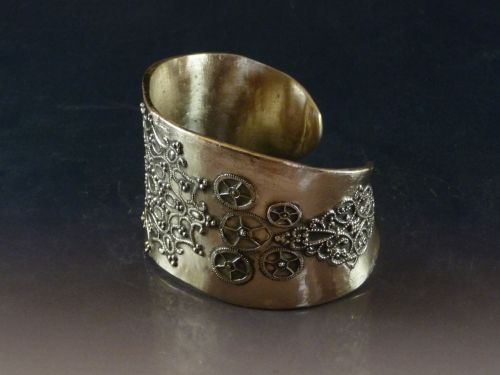 Voici le tutorial en photos que vous pourrez télecharger en version imprimable chez Perles and Co.
Vous y trouverez également tout le matériel nécessaire à la réalisation de ce bracelet.
Vous avez besoin de :
Pâte polymère
Estampes
Rouleau
Réglettes d'épaisseur
Pâte de bronze
Huile d'olive
Limes
Eponges à poncer
Conteneur en inox
Charbon activé
Four
Brosse en métal
What you'll need :
Polymer clay
Metal stampings and/or filigrees
Roller
Clay thickness guides/spacers (or stacks of playing cards)
BRONZclay™ bronze metal clay (100g package)
Olive oil
Clay blade or sharp craft knife
Metal files
Sanding sponges
Stainless steel firing container
Activated carbon
Kiln
Wire-bristle brush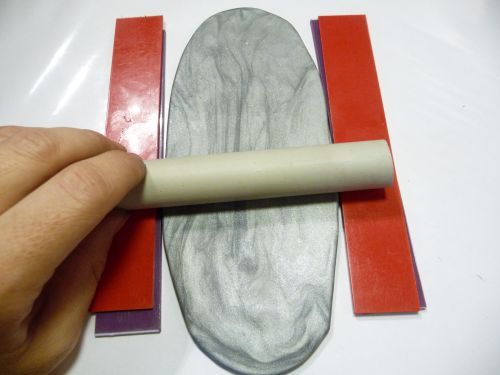 Etalez de la pâte polymère sur une épaisseur de 3,5 à 4 mm, de la largeur et de la longueur que vous désirez pour le bracelet.
Roll the polymer clay to a thickness of 3.5 to 4mm, as long and as wide as you want the bracelet to be.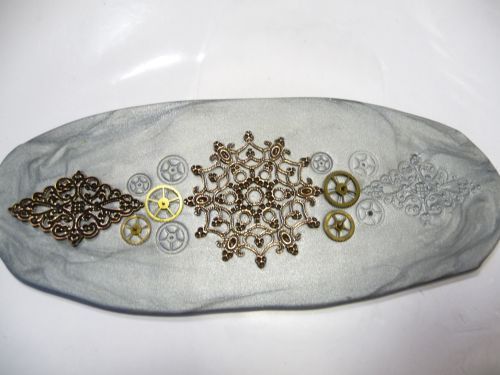 Enfoncez-y les estampes en vous aidant du rouleau pour que les marques soient bien régulières.
Retirez-les doucement pour ne pas abîmer les empreintes puis faites cuire la plaque en vous référant aux indications du fabricant.
Press the metal stampings/filigrees into the polymer clay and roll over the surface with a clay roller so that the impressions will be even.
Lift the stampings/filigrees slowly and carefully to remove them from the clay without damaging or blurring the impressions. Then bake the polymer clay according to the manufacturer's directions.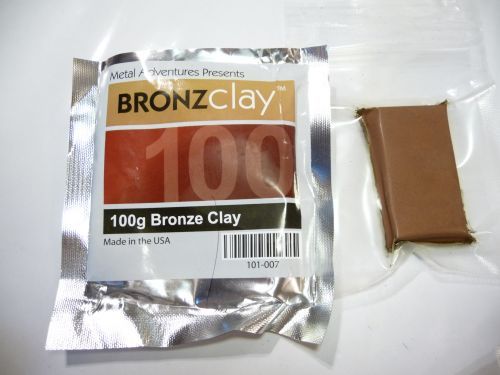 Ouvrez votre paquet de pâte de bronze. Découpez le haut du sachet en plastique refermable.
Open your package of BRONZclay™ and slice open the top edge of the recloseable plastic pouch.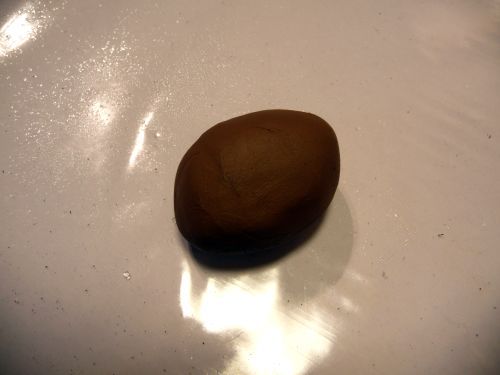 Enduisez vos mains d'huile d'olive, puis modelez la pâte en une grosse boule souple. Si besoin, ajoutez de l'eau pour la ramollir.
After applying olive oil to your hands, knead the clay into a large, pliable ball. If necessary, knead in a little water to soften the clay.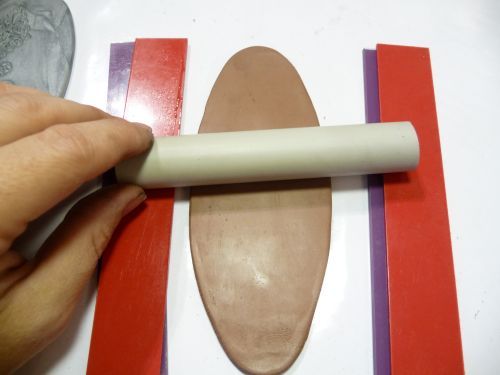 Etalez la pâte sur une épaisseur de 3 mm environ.
Using your thickness guides/spacers (or stacks of playing cards), roll out a clay sheet approximately 3mm thick.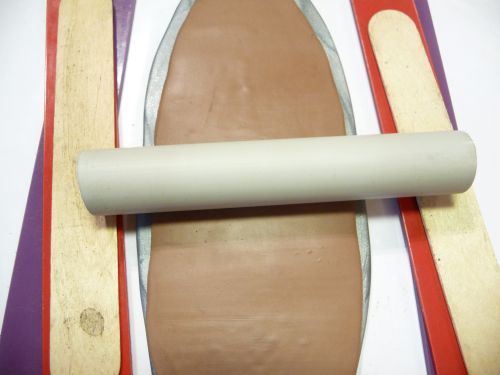 Posez la plaque de polymère cuite sur la table. Mettez de chaque côté les réglettes d'épaisseur utilisées pour étaler la polymère puis rajoutez une épaisseur de 1,5 mm (ici, les abaisse-langues).
Etalez la pâte de bronze sur la plaque d'empreintes après l'avoir huilée.
Place the cured polymer clay mold on your work surface. Stack thickness guides/spacers on either side to match the height of the polymer clay, then top them with more spacers (here I've used tongue depressors) to add another 1.5mm of height.
Oil the polymer clay mold. Place the BRONZclay sheet on top and roll it over the mold, using the stacks of spacers to ensure an even thickness.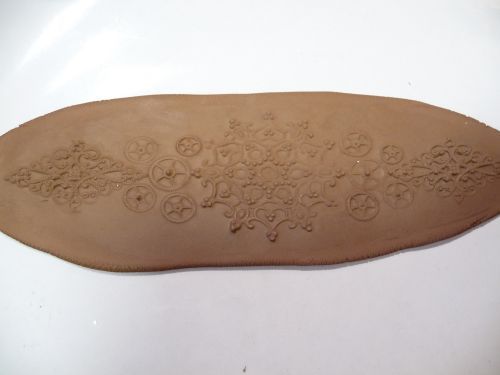 Retirez la pâte de bronze de la plaque de polymère et retournez-la.
Remove the BRONZclay from the polymer clay mold and turn it over (so the raised designs face up).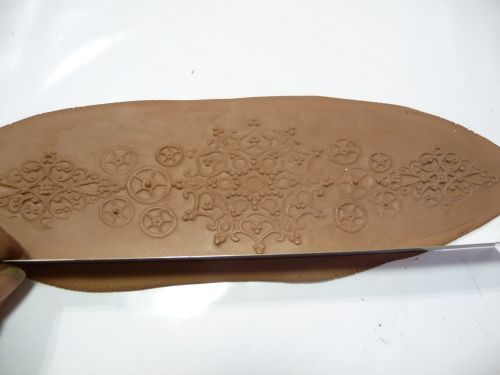 Découpez la pâte de bronze aux dimensions souhaitées. Gardez à l'esprit que la pâte de bronze réduit d'environ 25 % à la cuisson.
Cut the BRONZclay to the desired dimensions. Keep in mind that BRONZclay shrinks approximately 25% during firing.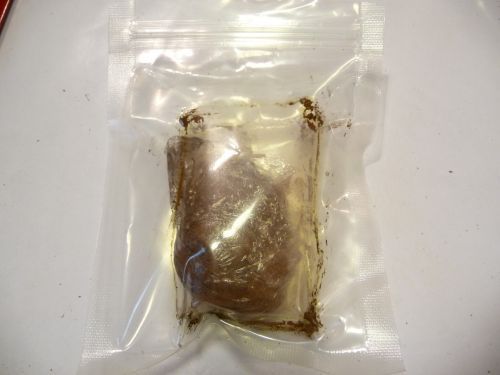 Enveloppez la pâte de bronze restante dans du film plastique alimentaire et mettez le tout dans la pochette plastique refermable.
Press the remaining clay into a ball, wrap it in plastic wrap, return it to the recloseable plastic pouch and re-seal the pouch.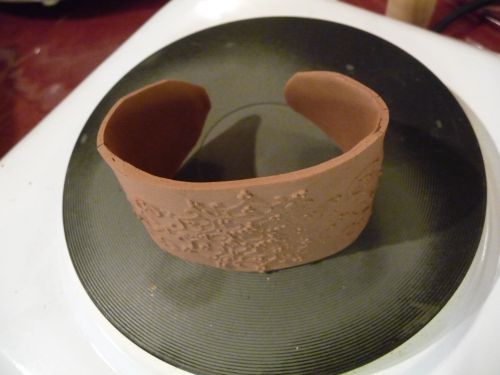 Mettez la pâte de bronze en forme et faites-la sécher sur une plaque électrique.
Shape the BRONZclay into a cuff and dry it on a cup/mug warmer.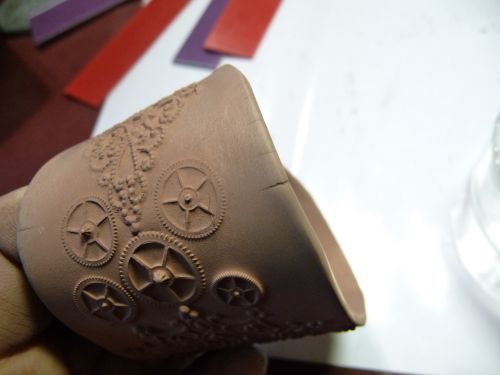 Lors du séchage, il peut se produire de petites fissures.
Small cracks may form as the clay dries.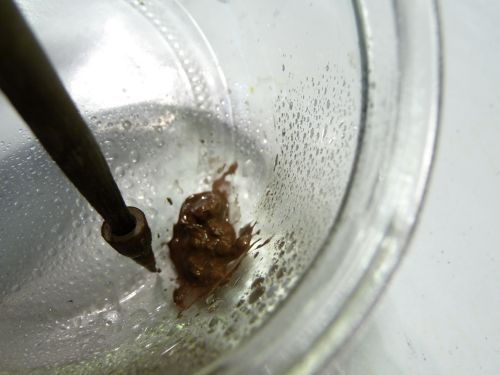 Mettez un peu de pâte de bronze dans un récipient. Ajoutez de l'eau pour en faire une pâte épaisse.
If so, put a little BRONZclay into a cup and mix in enough water to make a thick paste.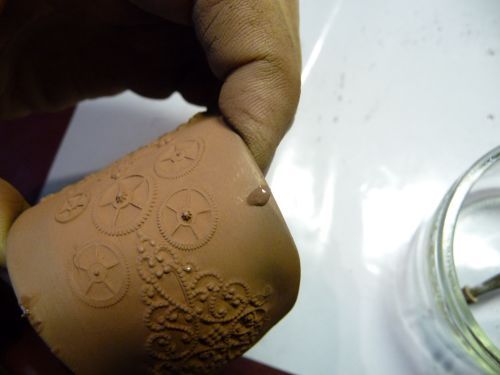 Rebouchez les fissures avec cette pâte et remettez à sécher.
Fill the cracks with this paste and put the cuff back on the cup warmer to dry the paste.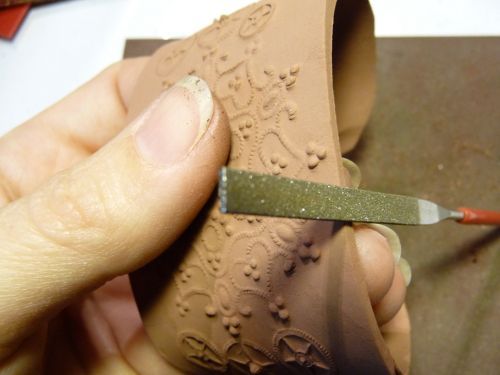 Limez le bracelet à l'aide de limes. Adoucissez les bords pour qu'ils ne soient pas tranchants après cuisson.
File the edges of the bracelet with needle files. Soften the edges so they won't be sharp after firing.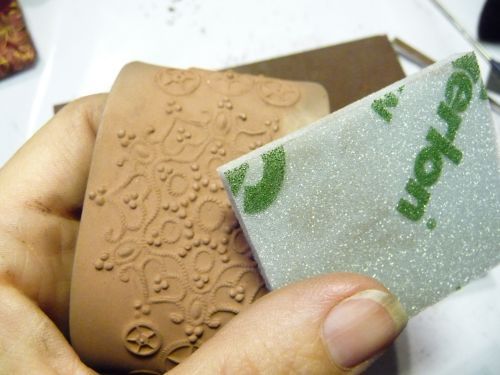 Polissez ensuite à l'aide d'éponges à poncer pour lisser le bracelet.
Then sand with sanding sponges to make the bracelet smooth.
Déposez le bijou parfaitement sec sur une brique réfractaire.
A l'aide d'un chalumeau, brûlez le liant organique jusqu'à l'obtention d'une couleur rouge sur l'ensemble du bijou.
.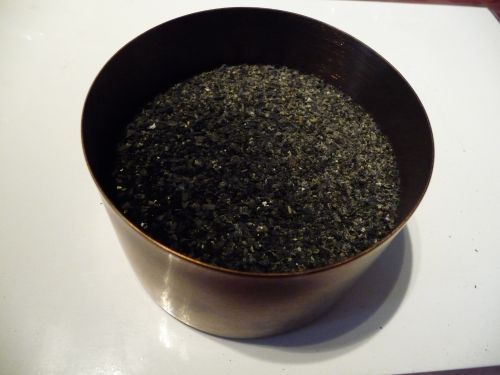 Remplissez le conteneur à ras bord de charbon activé, sans mettre le couvercle et relancez une cuisson avec les paramètres suivants :
Température finale : 830 °C
Durée de chauffe : 0 (vitesse maximale)
Durée de cuisson : 3 heures.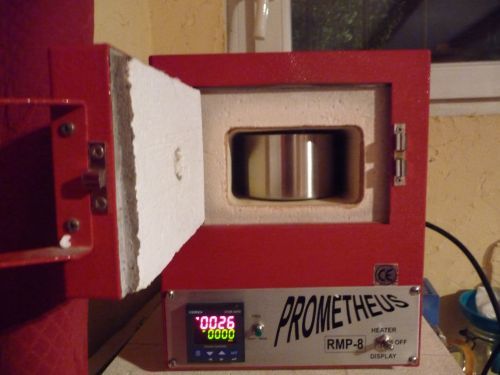 Ces paramètres de cuisson proviennent de Hadar Jacobson, que je remercie :
http://www.artinsilver.com
After the firing is complete, allow the kiln to cool to room temperature without opening the door.
The stainless steel container will have turned black, and the top of the carbon will be lightly covered with ashes.
Do not touch the pieces, which have not been fired fully yet. Only the binder has burned off during this first firing phase, and therefore the pieces are very fragile.
Add more activated carbon to fill the container almost to the top. Cover it with the lid and start the Phase II firing using the following schedule:
Target temperature: 830° C
Ramp rate: 0 (fastest speed)
Hold time: 3 hours
This firing schedule was provided by Hadar Jacobson, whom I thank:
http://www.artinsilver.com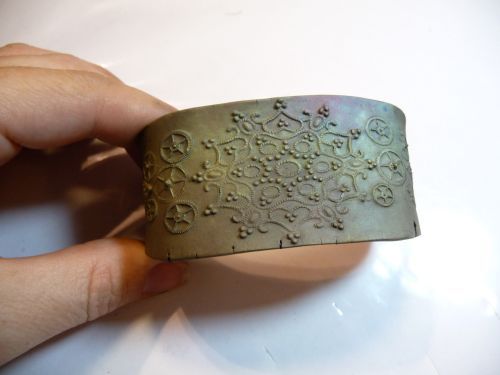 Laissez refroidir à température ambiante puis retirez les pièces du charbon.
Les couleurs varient du vert au rouge en passant par le bleu.
Si des fissures surviennent après cuisson, vous pouvez les réparer très facilement.
Allow the kiln to cool to room temperature, then remove the pieces from the carbon. The colors will vary from green through blue to red.
If cracks have developed during firing, you can repair them very easily.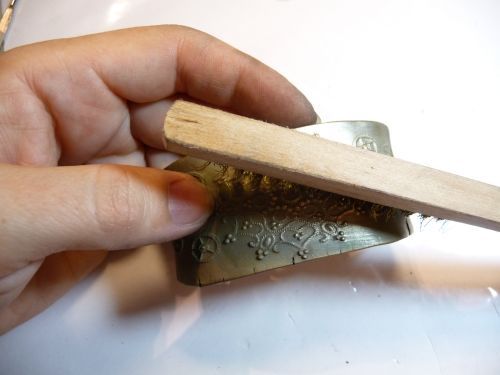 Commencez par brosser l'ensemble du bracelet avec une brosse en métal pour enlever l'oxydation.
Start by wire-brushing the entire bracelet to remove the oxidation.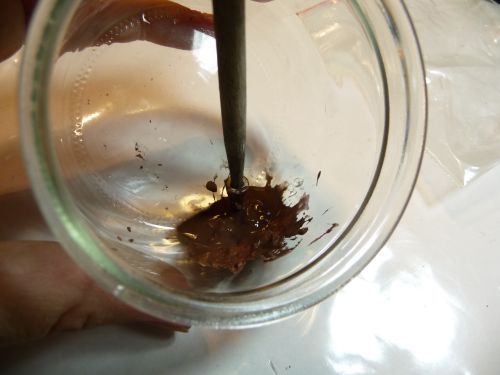 Préparez une pâte en mettant un petit pois de pâte de bronze, 2 gouttes d'huile essentiel de lavande et quelques gouttes d'eau. Rébouchez les fissures avec cette pâte. Laissez sécher puis reprenez les étapes de cuisson.
Pour finir, laissez le bijou tel que sorti du four pour une finition antique ou brossez-le énergiquement pour une couleur plus dorée.
Next, prepare some paste by mixing a pea-sized piece of BRONZclay, 2 drops of essential oil of lavendar and a few drops of water. (Re)fill the cracks with this oil paste. Let the paste dry then re-fire, repeating both phases of the firing schedule.
Finishing: Either leave the bracelet as it is (with the kiln patina) for an antique look, or wire-brush it vigorously for a more golden finish.
Thank you Margaret for you translation!