màj 2012/02/09
Margaret Schindel kindly translated my last bronz clay tutorial.
Thank you very much Margaret, you are very helpfull!
I encourage you to visit her squidoo sites, full of any information you need on metal clays.
http://www.squidoo.com/preciousmetalclay
http://www.squidoo.com/metal-clay-brands
http://www.squidoo.com/bronzclay-tools
http://www.squidoo.com/bronzclay
This earrings were made with Hadar's Clay(TM) bronze clay powder.http://www.artinsilver.com


Voici mes dernières boucles d'oreilles en pâte de bronze.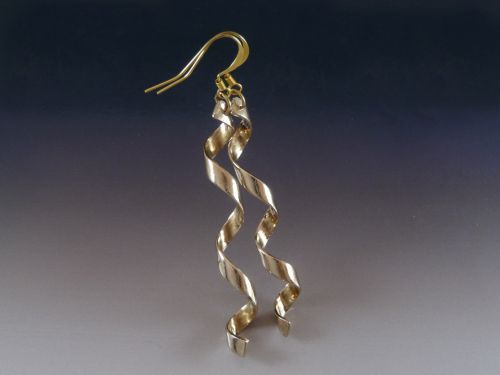 Ce projet m'a permis de tester la cuisson de la pâte de bronze dans mon mini four Prométhéus (mes autres projets ayant été cuits dans mon four FireFly de Paragon).
Karinouchka m'a gentiment envoyé tout le nécessaire pour que je puisse réaliser ce projet et en faire un tuto. Merci!!!!!!
This project has allowed me to test the firing of bronze clay in my mini Prometheus kiln (my other projects were fired in my Paragon FireFly kiln).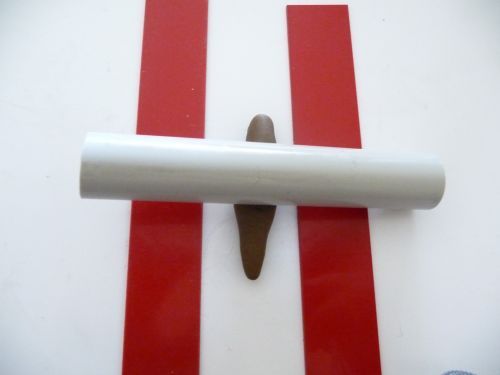 Malaxez une noix de pâte de bronze dans vos mains après les avoir enduites d'huile d'olive.
En cas de pâte sèche, rajoutez quelques gouttes d'eau froide pour l'humidifier.
Huilez votre plan de travail et votre rouleau, puis, étalez la pâte sur 2 mm d'épaisseur (8 cartes à jouer).
Knead a lump of bronze clay in your hands after coating them with olive oil.
If the clay feels too dry, work in a few drops of cold water to moisten it.
Oil your work surface and your clay roller, then roll the clay 2mm thick (8 cards).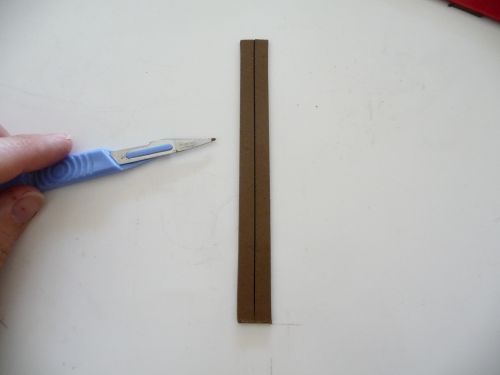 A l'aide d'un cutter, coupez 2 bandes de pâte de 5 mm de large et 10 cm de long.
Using a disposable scalpel (or other sharp, thin blade) cut 2 strips of clay, each 5mm wide and 10cm long.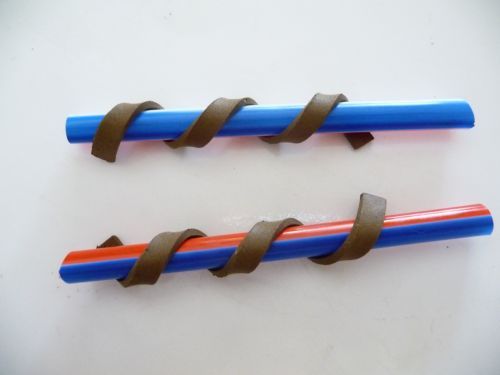 Enroulez-les encore humides autour de 2 morceaux de pailles.
Faites les sécher sur une plaque de cuisson entre 100 et 120 °C.
While the clay still is moist, wrap the strips around 2 pieces of drinking straw. Dry them on an electric hotplate set to between 100°C and 120°C.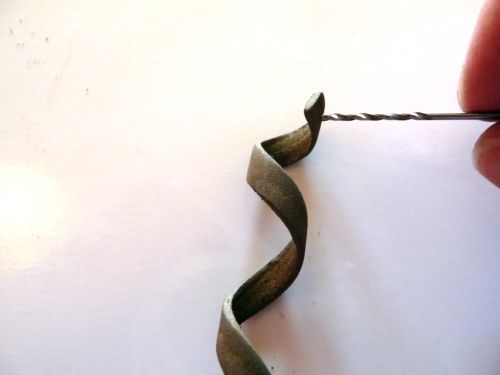 Une fois sèches, percez l'extrémité supérieure des boucles à l'aide d'un foret de 1 mm.
Once they are dry, use a 1mm drill bit to make a hole in the upper end of each curled strip.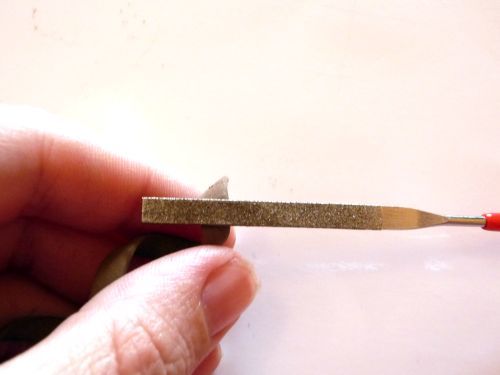 Limez précautionneusement les 2 bandes torsadées pour les égaliser et les lisser.
File the 2 curled strips very carefully to make them level and smooth.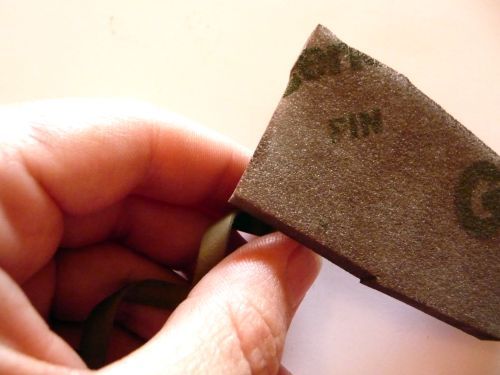 Puis, poncez-les à l'aide de papier de verre de carrossier ou mieux, d'éponges à poncer, grain 600.
Then sand them with 600-grit automotive sandpaper or, even better, with 600-grit sanding sponges.
Déposez le bijou parfaitement sec sur une brique réfractaire.
A l'aide d'un chalumeau, brûlez le liant organique jusqu'à l'obtention d'une couleur rouge sur l'ensemble du bijou.
Puis, déposez-le dans un conteneur en inox contenant 1 cm de charbon. Recouvrez le bijou d'un autre cm de charbon.
Température finale : 830 °C
Durée de chauffe : 0 (vitesse maximale)
Durée de cuisson : 3 heures.
Ces paramètres de cuisson proviennent de Hadar Jacobson, que je remercie :
http://www.artinsilver.com
Fill the container almost to the top with activated carbon, cover with the lid, and start a new firing cycle with the following settings:
Target temperature: 830 °C
Ramp time: 0 (fastest ramp speed)
Hold time: 3 hours.
These settings come from Hadar Jacobson, whom I thank: http://www.artinsilver.com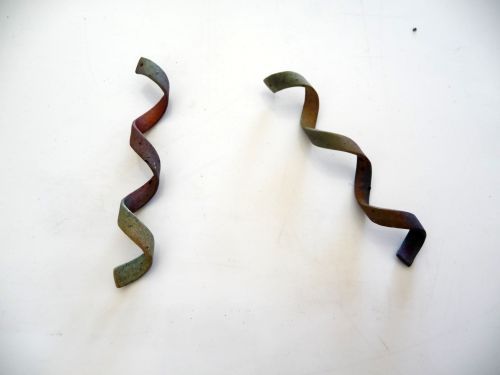 Laissez refroidir à température ambiante puis retirez les pièces du charbon.
Les couleurs varient du vert au rouge en passant par le bleu.
Vous pouvez choisir de les laisser ainsi.
Let the kiln cool to room temperature, then remove the bronze pieces from the carbon.
The colors can range from green through blue to red. If you like the colors you get, you can leave them they way they come from the kiln.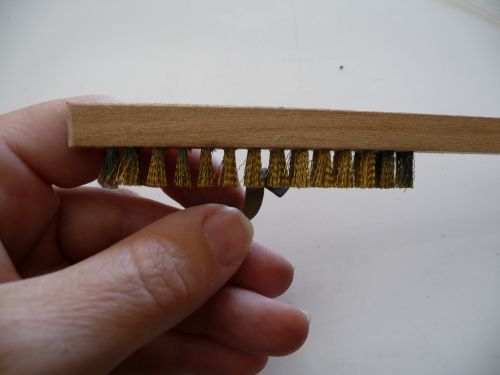 Si vous désirez un fini plus doré, brossez les pièces cuites à l'aide d'une brosse en soies d'acier inoxydable ou de laiton.
If you prefer a more golden finish, brush the fired pieces with a brass or stainless steel wire bristle brush.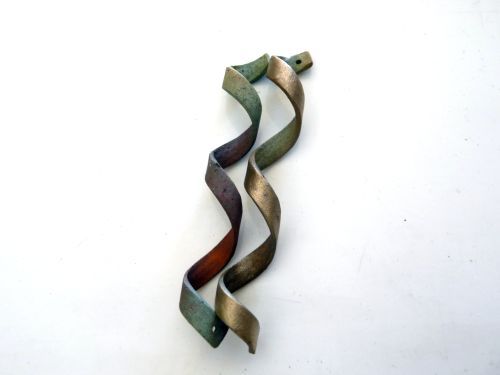 Vous aurez alors un fini mat doré (sur la photo, une pièce sortie du four et l'autre juste brossée).
Si vous souhaitez un fini brillant, frottez les pièces à l'aide de papier de verre de carrossier, depuis le grain 1500 jusqu'au grain 8000.
Vous trouverez tous le matériel nécessaire à la réalisation de ce projet ainsi que les instructions imprimables sur le site de Karinouchka : http://www.karinouchka.com
This will give you a golden matte finish. (The photo shows a just-fired piece straight from the kiln on the left and one that was wire-brushed afterwards on the right).
If you want a bright, shiny finish, polish the pieces with a series of increasingly fine grits of automotive sandpaper, starting with 1500 grit and progressing through all the intermediate grits to 8000 grit.
Thank you again Margaret for this translation!